The Head of the UGCC: "Lemky demonstrate to the whole world that they are faithful God's people who love their land and culture"
Stepping on this glorious hill, I heard today nice words of greetings. I was said that these days the heart of Lemkivshchyna is beating here. I would like to tell you that here today the heart of the whole Ukraine, whole UGCC is beating, as well as the heart of our God-loving nation, who is longing to listen to God's word together with you. And, hence, we are longing to ask God to hear about our sufferings and have mercy on our difficult and painful history and grant us a peaceful and better tomorrow.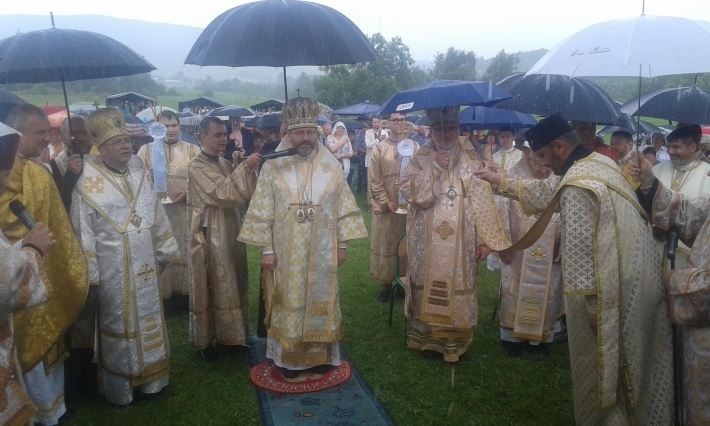 With such words began his homily the Father and Head of the UGCC His Beatitude Sviatoslav on July 23 in Zhdyn (Poland) on the occasion of commemorating the 70-th anniversary of the operation "Vistula" on "Vatryane field." We would like to add that there the Head of the UGCC blessed the first stone set in the construction of "Vatryana Church" of St. Venerable Anthony, a Kyivan hermit.
According to the preacher, in Sunday's Gospel we see Jesus Christ Who is approaching a man crying out to Him, waiting for healing. "In the Holy Scripture we see the image of God Who hurries towards a man. Our God – is not closed in Himself. God – is light and there is no darkness in Him at all," he explained. "In His Only Begotten Son God addresses to us His eternal Word. God is neither speechless nor mute when He sees human pain and hears his begging for help. He sends us His Word. He Himself becomes the Word. Christ – is the Word of the Father, which is addressed to each of us."
His Beatitude Sviatoslav emphasized that the Gospel says about two healings. On the one hand, the Lord our God restores sight to the blind who beg Him with a prayer for mercy. And on the other hand, we see healing of a deaf and mute man who was possessed by a spirit which didn't let him either talk or hear. "We could say that in those two miracles the Lord tells us the same thing. He heals a man's ability to see and hear God. He heals a man's ability to talk to God, accept the light directed from God towards a person, and also have a gift of speech," he added. In his opinion, it often happens that sometimes we, who can see and hear, at a certain moment of our life become blind and mute, when we stop seeing God and hear His Word. "We become blind when our anger, our sins, our passions darken our eyes. We become dumb when we tell lies or prate. A person will lose his ability to speak if he separates himself and his life from the Lord our God. But Jesus hurries towards us, becomes our Light, our Word, opens our ability to see God's presence among us and hear the God's Word which He puts into our ears," said the preacher.
The Primate of the UGCC noted that in the context of the 35-th jubilee Lemkivska vatra in Zdyn, which takes place these days, we are recalling the sad times when "the Lemkivski mountains began to darken, when Lemkivski huts lacked light." For those people who lit the light of life and faith on these lands were expelled.
He remarked that the day before, July 22, he visited the railway station in Gorlice, from which 11 thousands Lemkovites were driven away - they had been living there for weeks waiting for a train car which was supposed to take them into exile. "Perhaps in those places, among our brothers and sisters, the prayer could be heard: "Jesus, Son of David, have mercy on us." And then, probably, God Himself hurried towards them and asked: "Do you believe that I can do this for you?" And the light of their faith shone bright and they said: "Yes, o Lord." We recall those horrible days and pray that similar things will never happen again," said His Beatitude Sviatoslav.
"We ask God, by means of His power and our faith, to protect our lands from new darkness and new falsehoods. We ask Him to grant peace to our country, and to us – power to believe in God, love our homeland, language and culture. This is what year after year returns Lemkovites to their land, like storks returning to their nests. They show the whole world that they are faithful God's people who love their land and culture," summed up the Primate of the Church.
Photos by Fr. Pavlo Dobriansky
The UGCC Department for Information