Head of UGCC in Dobromyl: "Today I am calling our priests of Basilian order to Donbas and Crimea"
Marking these historical events here, in Dobromyl's monastery, we feel that this celebration is not something forgotten with past. They are called to restore our country and our nation… Father and Head of Ukrainian Greek Catholic Church His Beatitude Sviatoslav said, delivering his homily to the faithful in Basilian's monastery in Dobromyl on the day of Transfiguration of Christ.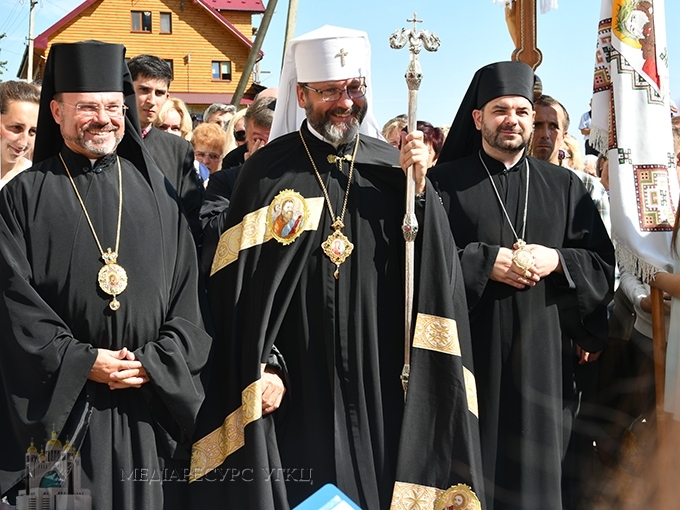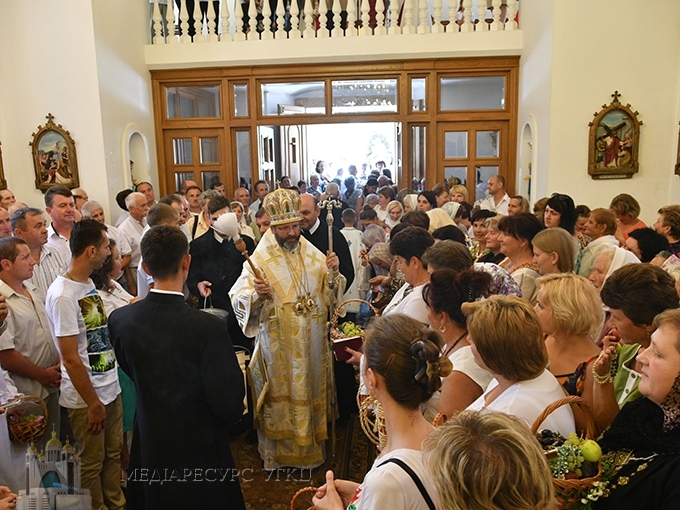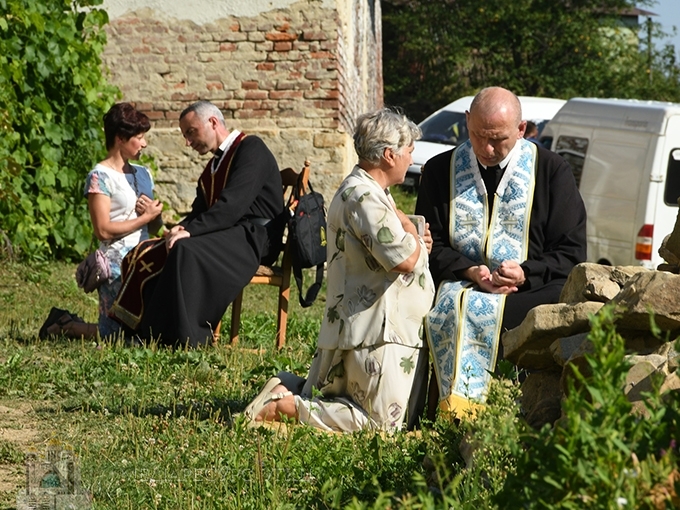 Today Christ's Church is celebrating one of the biggest Christian holidays – Transfiguration of the Lord.
"The event of Transfiguration, - Head mentioned in his homily, - has a truly deep meaning as in the person of Jesus Christ through the special symbols, when apostles saw the living God, heard His voice, saw His light. It can be said that Transfiguration of Lord reveals people true vision about God – the God who wants to be close to a man, who comes to the man".
In His transfiguration, the Lord also reveals some truth, the preacher assumes, truth about a human themselves. He shows thatin God's plan a human was created for being a godbearing one. Our body was created by God not for a death but for a life in resurrection. Through a body, being transfigured on Tabor mountain, the light of divinity shone upon. That what God created me and you for. The transfiguration on Tabor means a man's revival…
As His Beatitude Sviatoslav said, with this event we also commemorate the name of his great precursor, of blessed memory Josyf Veliamyn Rutsky. It has been 380 years since his death this year. It might be said that God in a due time put into his heart a certain vocation – to restore Kyiv Church of Volodymyr's Baptism and reveal the truth about it before the same Church and the whole world.
"Being the Head of United Church understood that entire truth about Volodymyr's Baptism, the whole beauty and majesty of this event and glory of that Church emerges from the Church of holy martyrs and hermits of righteous, authentic Christian life. This majesty and truth is resembled by unity of Kyiv Church and Apostolic Holy See. For we know that in the times of Volodumyr's Baptism Christianity was not divided yet. Beauty of original undivided Christianity shines in completeness in the Church which this man desired to transform and restore. So, what is he doing for transforming Kyiv Church? He, primarily, cares for restoration and reformation of its monasticism in a reform we know today as 400th anniversary of Basilian monks order", head of UGCC said.
As it was mentioned by the Archbishop, the idea which is being treated rather differently today, belongs to Veliamyn Rutsky. The idea of the only local Church in Ukraine, the idea of the single Patriarchate in unity with Roman Apostolic See. That is how he saw necessary steps to restore the entire power and beauty of the heritage of father's faith we have received today.
"Marking these historical events here, in the monastery, we feel that this celebration is not something forgotten with past. They are called to restore our country and our nation. But it will happen only through the restoration and revival of our Church, the restoration of real meaningful spiritual life of every believer of our Church. And that's why we see today some challenge in restoration, revival of monasticism of Ukrainian Greek Catholic Church", the Archbishop pointed out.
Head of Church minded that together with the faithful he consecrated a monastic temple. "It is not a new one as it was built in XVIII century. However, its beauty was destroyed… Today on the Transfiguration Day this church is turning in a new one. We know that in due time Basilian order has been revived. As precisely out of here the glorious reform of this order started at the end of XIX century".
Head of Church assured in his prayers to the Holy Spirit for sending grace of a new reform for Basilian monks in Ukrainian Greek Catholic Church. "The grace which is nothing but a renewal of a real authentic spiritual life, spreading horizons… It is true that Basilian order was developing being separated from the rest of monasticism and body of the Church but stayed in its heart. Only after metropolitan Andrey called monks and they moved to Canada, America, Brazil, Argentina for reviving humans' souls, this Order went through kind of revival itself", the preacher assumes.
"And today I am calling our priests of Basilian order to Donbas and Crimea, to those regions where body of our Church suffers the most", the preacher stressed on.
Furthermore, Head of Church recalled a name of a great reformer of monastic life of UGCC –righteous metropolitan Andrey Sheptytsky, who revived in due time, becoming a monk in this temple. "There is a famous legend about how his mother, countess Sheptytska came to Dobromyl and saw her son sweeping this temple. She was surprised as it was quite unusual to see an earl with a broom. But this change with a power and grace of the Holy Spirit made a Great Moses of him for Ukrainians in the same temple. And we are grateful for this today".
The UGCC Department for Information