"God is faithful, and His hand never stopped helping us," His Beatitude Sviatoslav in Krylos
On August 6, during the All- Ukrainian Patriarchal Pilgrimage to Krylos, His Beatitude Sviatoslav in his homily was speaking about a boat − the Church.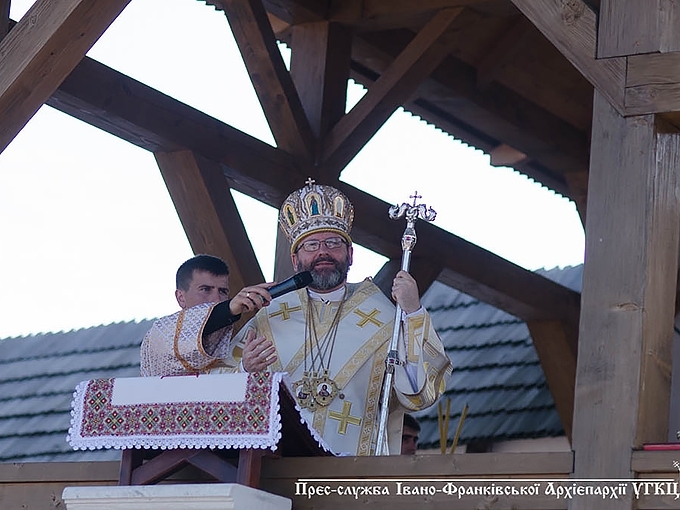 "A boat over here, strong gusts of wind are blowing... In this boat the apostles saw the God's Word, and this boat is our Church. We can touch upon that boat here, in Krylos, stepping on the foundations of the ancient cathedral. Though the Uspensky cathedral is in ruins, the Church is nevertheless standing because, according to apostle Paul, it is us - you and me - who make it," − explained the preacher.
"That very Church which gave the Universal Church St. Josaphat Kuntsevych, that very Church which 30 years ago wrote a declaration about coming out of the catacombs, that very Church which is looking into the icon of the Mother of God and which 100 years ago, through the little shepherds in Fatima, revealed the message about praying for conversion of Russia, is standing here," emphasized the Head of the UGCC.
After that His Beatitude Sviatoslav reiterated,"God − is faithful, and His hand never stopped helping us. He is faithful but He wants our credence. Such confidence we can see in today's Gospel about the stormy Sea of Galilee, where Peter is walking on the water. This is the school of faith, the experience where the disciples see Christ on the water. Everyone who in his life experienced loneliness must have outlived these stages of ripening his faith. Everyone should go through the crisis and open God as a personality. He has been leading our people through the stormy waves of war for several years already."
"The Lord says: Why do you doubt, you of little faith? God − is faithful and teaches us faith and trust. This trust is opening for us through the Mother of God, Whose miraculous icon is here in Krylos. Mary, help us, our families and our nation get across the sea of our life," asked at the end of his homily the Primate of the UGCC.
The UGCC Department for Information
based on the materials of ugcc.if.ua